January 19, 2010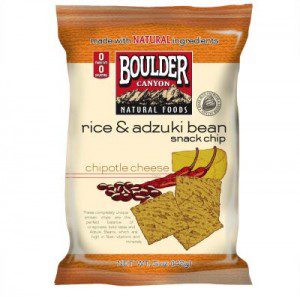 I like the spicy flavor  Boulder Canyon's Rice & Adzuki Bean Chipotle Cheese Chips and the fact that they're made with nutritious adzuki beans. Those adzuki beans are naturally rich in fiber, magnesium, potassium, iron, zinc copper, manganese and vitamin B3. Those nutrients, though, are not seen in the chips — as the Rice & Adzuki Bean chips don't contain enough of those nutrients to be mentioned on the Nutrition Facts panel.These tasty chips have a similar nutritional profile to other non-bean chips, that is 150 calories, 7 grams total fat, 200 milligrams sodium and 1 gram fiber per 1-ounce (20-chip) serving.  These chips also contain 2 percent of the daily value of calcium and vitamins A and C, and 4 percent iron.
Boulder Canyon also makes adzuki bean chips in Natural Salt and Sun Dried Tomato with Basil flavors. Chipotle Cheese are the tastiest.
If these chips had more fiber (which I had expected because of the adzuki beans), more listable nutrients and less fat, Boulder Canyon's Rice & Adzuki Bean chips could have been a FeaturedBite — an outstanding product we tried and recommend — instead of a TidBite — a decent product that we recommend.
– bonnie